Reviews by Mom to Bed By 8
When I first visited the Snazzy Baby website my eyes peeled to their knee pads for baby. Ever since Elliot began crawling on the floor, I have it in my mind that we needed something like this to keep his knees from harm. We have all hardwood and vinyl and it can be hard on his little legs. So I watched out everyday for about a week for them to arrive, so excited about my find. Though when they did, I was fairly surprised. I paid close attention to the design on the website but once they were in my hand I almost put them right back in the box. Now I am so glad I actually gave them the chance they deserved because we use them often.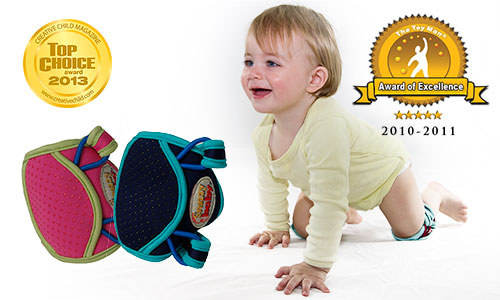 The Snazzy Baby Knee Pads are a little thicker than they appeared to me when shopping online but I have grown to really like this feature. It seems to keep his knees better padded than legwarmers and I have had a lot less trouble with Elliot's knee area becoming dry.
The only thing I am not fond of with the knee pads is the red bands that connect the top and velcro closures. I have to be careful not to pull them too tight or it leaves a little mark for this the back of his leg. I also have to be careful not to leave it too loose or they slide down as he crawls.
Overall though I found the Snazzy Baby Knee Pads to be very useful. They are available in four colors and allow for sizing to meet your needs (via velcro closure). My four year old has even successful worn them a time or two as well. They are not a must have but do make crawling more comfortable for baby for sure.
Snazzy Baby Knee Pads features:
Easy and simplified fastening system to ensure proper fitting every time.
Ergonomically designed to safely give your child greater flexibility and movement.
Improved so that children can wear for a long period of time, from 4+ months up to age 4+.
Use for Commando Crawling, Crawling, Toddling, Walking, Running, Bike Riding, Ball Sports, Playground Activities.
The special design of these Knee Pads can also allow you to use these as protectors for your baby 's elbows.
Indoors or outdoors, all floor surfaces, babies and young children can crawl safely and properly – no red sore knees, no bruises, no scraped knees, and no rug burn.
Soft, durable and machine washable.
Ultimate protection from Medical Quality Neoprene.
Non-slip " traction beads " embossed on to the Neoprene enhances traction and allows a comfortable stretch.
Gives your child maximum protection without restricting movement and circulation.
Prevents wear and tear on clothing.
Snazzy Baby 's Award winning products do not contain Azo Dyes, Phthalates or Bisphenol-A and are formaldehyde free.
You'll never have to worry if your baby is crawling properly to help develop their motor skills.
The first day I used the Snazzy Baby Mom's Deluxe 3 in 1 Combo Carrier I really made a fool of myself. I thought in my mind I have put on a half a dozen carriers with my four children, I can do this one too without reading the instructions. Well that did not work. Why you might ask.
The Snazzy Baby Mom's Deluxe 3 in 1 Combo Carrier is a wonderful multipurpose carrier as well. You can use it as a carrier both front and rear facing, a portable high chair and even can be used in a shopping cart (this keeps Elliot more secure than any single strap safety device I have ever seen in a shopping cart).
Though what I found to be even more amazing about this carrier is the compact size. I keep ours in the baby bag. No more bulk to be tossed from car to house and back again. Love this!
Mom's Deluxe 3 in 1 Combo Carrier features:
FREE pair of ' My Baby Leg Warmers ' included so you are geared up if your baby gets cool or if the weather changes unexpectedly when you are out and about.
You can choose the most comfortable position for you and your baby so it is right for you both every time you use it.
Simply converts to being a portable high chair restraint to use on any type of standard style chair.
Specially designed to assist moms while breast feeding.
Ergonomically designed gel based shoulder strap evenly distribute your baby's weight giving you long use comfort.
Can be used on shopping carts to secure your child while shopping.
Easy to use colour coded clips and instructional DVD make securing your baby a breeze.
Front storage compartments for convenient storage of spare diaper, wipes, pacifier, cell phone, leg warmers etc.
May be used at the pool or beach material is chlorine and salt water resistant.
Use from 4+ months when your baby has good head control to age 3+ – to 37lb or 17 kilos.
You carry the weight of your baby and not the Combo. Is very lightweight, weighs only 16oz or 500gm.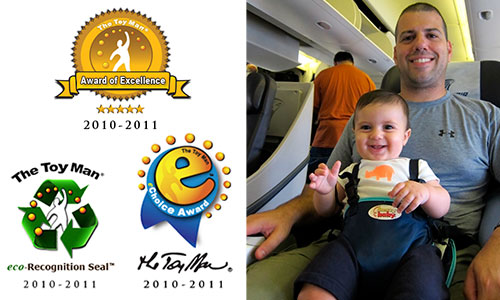 Now the Snazzy Baby My Baby's Own Deluxe Travel Chair is another wonderful compact on the go multipurpose baby accessory. To be completely honest I have only used it once so far to test it out; then my hubby snuck it away to his car for when he has outings with El.
The Deluxe Travel Chair even folds up into a small purse like bag all completely attached. So only one piece to keep up with. Note that is why it ended up with my husband. He loves simplicity.
My Baby's Own Deluxe Travel Chair features:
Available Now – Snazzy Baby's All-Purpose 4 in 1 Travel Seat
Attaches to any standard chair
Attaches to YOU as a lap seat for hands-free holding and feeding anywhere you go
Keeps baby secured to you when flying (cruising portion only)
Use in shopping cards for additional security
Offers an easy solution as it turns an ordinary chair into a temporary high chair restraint system. No need to worry about the size of the chair.
Simple roll up feature of the Travel Chair with its own attached storage bag makes it a truly portable item.
Unlike others, the Travel Chair has a Non-slip bottom that grips the surface of any chair allowing your baby to sit comfortably without slipping.
Buckle fasteners and four-point restraint are used to keep your baby secure.
Special feature for use in shopping carts, keeping your baby in a secure position and preventing any injury while shopping.
Attaches to most chairs – even outdoor furniture – with adjustable straps which gives you greater flexibility, and allows your baby to be in a secure and controlled environment.
Use from the time your child can sit up unsupported to 17 kilos (37 pounds). Weighs just 180g (7 oz).
Moms can sling the Travel Chair over their shoulder or carry in their diaper bag – kids can carry it too!
Snazzy Baby products are all designed for easy use and care – simply machine wash and dry naturally.
Snazzy Baby's Award winning products do not contain Azo Dyes, Phthalates or Bisphenol-A and are formaldehyde free
Our thanks go out to Teri at Mom to Bed by 8 for such a wonderful review. The original article can be viewed here.